Intersection Between Business Administration and Information Technology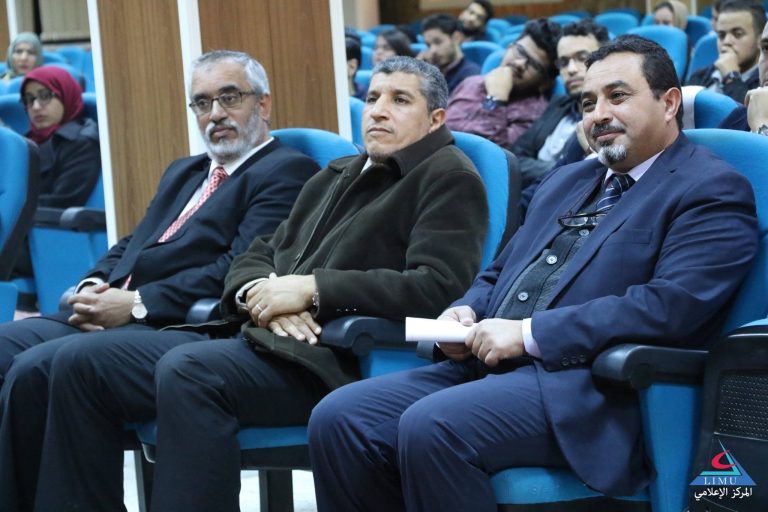 The Faculty of Business Administration (LIMU) organized a panel discussion on Thursday, January 18, 2018 at the main hall of the University under the title: "The intersection between Business Administration and Information Technology within the Libyan environment" in the presence of the President of the University and a number of deans and faculty members, students of the Faculty of Business Administration and Information Technology in addition to a group of specialists and interested parties.
The President of the University Council, Dr. Mohammed Saad, spoke at the beginning of the field and welcomed the establishment of such seminars because of their great impact in opening, deepening and enriching the discussion, which raises the rates of achievement and improve the level of knowledge of the new always, especially in the areas of business management and information technology.
The Dean of the Faculty of Business, Dr. Sabri El-Krghli, then introduced the Faculty which was inaugurated this year at the International University and received its students in the first semester, in addition to the modern methods and methods of learning.
The Dean of the Faculty of Information Technology, Dr. Tawfiq Al-Taweel, also spoke about the learning methodology used in the teaching and the specialties taught.
Dr. Alaeddin Ben Ismail, a member of the faculty, presented a scientific presentation on the intersection, an intersection imposed by different developments of economic and technological life.
The CEO of the Development Foundation, Dr. Khalid Al Mufti, spoke about Exponential Thinking. The Executive Director of the e-shopping website, Mr. Hadi Derby, spoke to the software engineer at the University, Mr. Fares Younis, who spoke. In turn, about investment in Information Technology. Both Mr, Abdel Aziz Layas and Mr, Mohammed Bouiseer, spoke about a special project for application on mobile phones called Medx.
Finally, the speakers took part in a Panel Discussion where they answered questions have been asked.
The workshop is part of the monthly program for young Business students, which includes a series of video presentations, panel discussions, and debates by hosting a group of leading Business leaders, distinguished academics and creative young people in various fields. In Libya in all its aspects